POSTDOC
Email: astro.jywang at gmail.com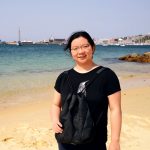 My current work focuses on the HI intensity mapping with MeerKAT, mainly including the single dish calibration and foreground cleaning.
Research Interests
Radio:
(1) 21 cm cosmology: EoR, BAO, cosmological parameters;
(2) radio experiment and observation: 21CMA, MeerKAT;
(3) AGN emission and absorption, radio variable and transient sources;
(4) radio-X-ray connection of galaxy clusters, radio halos & relics.
X-ray: imaging spectroscopic study of galaxies, galaxy groups, and galaxy clusters:
(1) inter-galactic thermal and dynamic;
(2) dark matter distribution and gas baryon;
(3) X-ray scaling relations.